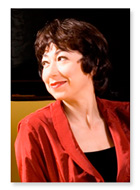 Elena Kuschnerova
Elena Kuschnerova was the last pianistic discovery of Harold Schonberg (1915–2003), music critic for the New York Times and prolific author on great performers. He dubbed her a "Pianist who grabs the imagination", and he lauded her Scriabin CD as "the best recorded performances I am familiar with" (American Record Guide, 2000 and 2001). Kuschnerova's Prokofiev CD (1997) had been awarded the "German Record Critics' Award (Preis der Deutschen Schalplattenkritik). It was included on a list of the 50 best "Desert Island" piano recordings of all time by the German music magazine SCALA. Penguin Guide's 2003/04 issue has awarded a Rosette to Elena Kuschnerova's all-Bach Recital (2001).
Pianists' books characterise her piano playing with superlatives: "highly developed technique, strong attack, composition-true clarity and seriousness, …seamless interpretations" acknowledge Harden/Willmes in "PianistenProfile" (Pianists' profiles); Jürgen Otten is positioning her in "Die großen Pianisten der Gegenwart" (Great pianists of modern times) together with Elisabeth Leonskaja and Lilya Zilberstein under the title "Three sisters" and acknowledges her "flawless technique" and "enormous tonal wisardry", names her "pianist par excellence."
Elena Kuschnerova was born in Moscow, trained at the Moscow Central Music School and the Moscow Tchaikovsky Conservatory. She lives in Germany and New York.