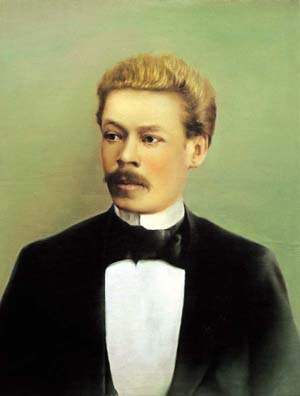 Anton Stepanovich Arensky (1861 - 1906)
The Russian composer, conductor and pianist Anton Arensky was a pupil of Rimsky-Korsakov at St Petersburg Conservatory and later taught at the Conservatory in Moscow, where his pupils included Rachmaninov and Scriabin. His compositions often reflect the influence of other composers, more particularly that of Tchaikovsky. He was musical director of the Imperial Chapel in St Petersburg from 1895 until 1901, and thereafter he continued his career as composer, pianist and conductor, travelling widely in the last two capacities.
Orchestral Music
Arensky wrote two symphonies and a violin concerto, as well as a set of variations for strings on a theme by Tchaikovsky, a work originally for string quartet. His first orchestral suite has been supplemented by orchestrated versions of two suites originally for two pianos.
Chamber and Instrumental Music
The best known of Arensky's compositions is his Piano Trio in D minor, the first of two such works. This was written in 1894 and shows something of the influence of Mendelssohn. His five suites, either for two pianos or piano duet, include Silhouettes—a set of five character pieces (Suite No. 2)—and the Children's Suite (Suite No. 5).
Stage Works
Arensky won some success in 1891 with the performance at the Bolshoi in Moscow of his opera Son na Volge ('Dream on the Volga'). A second opera, Rafael, offers a fictitious episode in the life of the Renaissance painter; a romantic song performed by an off-stage singer became a useful addition to the tenor repertoire. The ballet Ėgipetskiye nochi ('Egyptian Nights'), with the choreographer Fokin, was written in 1900 and first staged in St Petersburg in 1908. The plot revolves around Cleopatra and an infatuated lover, who is finally reconciled to his first love.