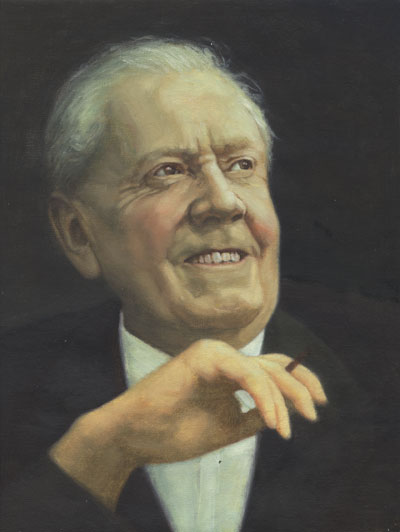 Malcolm Arnold (1921 - 2006)
The English composer Malcolm Arnold made his early career as a trumpet player, principally with the London Philharmonic Orchestra. From 1948 he concentrated on his work as a composer, writing music that showed his thorough understanding of the orchestra and in a style that is tonal and often more attractive to a wider audience than is usual in contemporary music. He wrote a large number of film scores, including the music for The Bridge on the River Kwai and The Inn of the Sixth Happiness. He was knighted in 1993.
Orchestral Music
Malcolm Arnold's symphonies have not always received the attention that is their due, although they mark a major achievement. Frequently heard, however, are the comedy overture Beckus the Dandipratt and the overture Tam O'Shanter. He has written concertos for a variety of instruments, including two for flute, two for clarinet, and a Concerto for organ, two trumpets and strings.
Chamber Music
Malcolm Arnold's chamber music provides interesting and attractive additions to wind repertoire in particular, among which the Three Shanties for wind quartet have found a popular place. A series of fantasies for various solo wind instruments, for guitar and for harp demonstrate his technical command of instrumental resources. He also contributed two violin sonatas and a Piano Trio, part of a varied body of work.