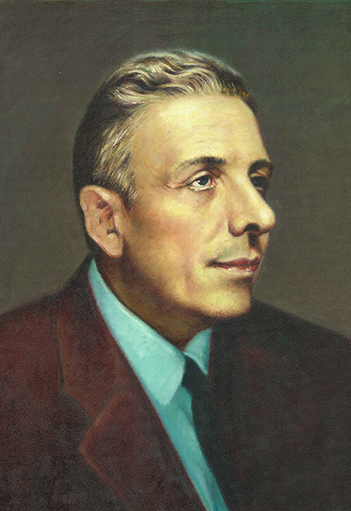 Francis Poulenc (1899 - 1963)
The French composer Francis Poulenc only undertook formal musical training, with Charles Koechlin, in 1921, by which time he had already become identified with Les Six, the six French composers of the circle of Jean Cocteau that included Honegger, Auric and Milhaud. His music was initially lightweight in style, but the death of a close friend in 1935 brought a new depth to his work at the same time as the start of a long collaboration with the singer Pierre Bernac.
Stage Works
Poulenc won considerable success with his comic opera Les Mamelles de Tirésias ('The Breasts of Tiresias'), with a text by Apollinaire. It was written during the later days of World War Two and staged in Paris in 1947. The tragic opera Dialogues des Carmélites ('Dialogues of the Carmelites') is part of the international operatic repertoire. Its libretto is based on a play by Georges Bernanos dealing with the execution of Carmelite nuns during the French Revolution, itself based on Gertrud von Le Fort's novel Die Letzte am Schafott ('The Last on the Scaffold'). Other stage works, in addition to a number of scores of incidental music and film music, include the ballet Les Biches, first staged in Monte Carlo in 1924.
Orchestral Music
Poulenc's orchestral music includes a suite from Les Biches, the charming Concert champêtre for harpsichord and small orchestra, and concertos for organ, for piano and for two pianos.
Choral and Vocal Music
Poulenc made a significant and idiomatic contribution to the art of French solo song in addition to a number of choral works. His solo songs range from settings of Apollinaire and Cocteau to settings of Ronsard. His melodrama L'Histoire de Babar, for reciter and piano, tells the story of Babar the Elephant, the creation of Jean de Brunhoff in a simple tale for children. His church music, after his inner conversion to the Catholic religion of his childhood in 1935, is marked by a Mass setting of 1937 and, more notably, the moving Stabat mater of 1950. In 1959 came Gloriafor solo soprano, chorus and orchestra, with a final, more sombre Sept Répons des ténèbres in 1961.
Chamber Music
French composers of the 20th century have shown a particular deftness in the handling of woodwind instruments. This ability is exemplified in Poulenc's sonatas for flute and piano, clarinet and piano, and oboe and piano, in addition to an attractive trio for oboe, bassoon and piano.
Piano Music
The best known of all Poulenc's music was at one time the three Mouvements perpétuels of 1918. There is a sonata for piano duet of the same year and a number of attractive short pieces, including a neoclassical suite after Claude Gervaise and the elegant Promenades.