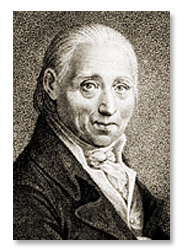 Johann Baptist Vaňhal (1739 - 1813)
Czech by birth, Vaňhal studied in Vienna with Dittersdorf, spent some time in Italy, suffered from mental illness on his return, but eventually settled again in Vienna. There he taught and composed, on one recorded occasion playing the cello in a quartet with Mozart, Haydn and Dittersdorf. He was prolific as a composer.
Choral and Vocal Music
Vaňhal provided some 60 settings of the Mass as well as settings of other liturgical texts. His secular songs include one in English, published in London in 1782, and other German and Italian settings. His operas are lost.
Orchestral Music
Vaňhal's orchestral music includes over 70 symphonies, with a varied collection of concertos. The symphonies represent an important element in the development of the form.
Chamber and Instrumental Music
Vaňhal was equally prolific as a composer of chamber music, composing a quantity of quartets, trios and duos. He also wrote many works for keyboard, some of them topically programmatic, including celebrations of the battles of Aboukir Bay and of Trafalgar.