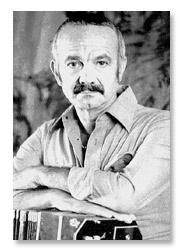 Astor Piazzolla (1921 - 1992)
Born in the Argentine, the composer, conductor and bandoneon player Astor Piazzolla spent much of his childhood and adolescence in New York, where he was taken by his family in 1925. He established himself in Buenos Aires from 1937 as a player of the bandoneon (a German-invented form of concertina popular in Argentinian tango bands) and came to enjoy an international reputation with the various ensembles that he established and led.
Music
Piazzolla was associated in particular with the development of the so-called 'nuevo tango' ('new tango'), for concert use rather than dancing. His compositions include a Bandoneon Concerto and a suite for bandoneon and chamber orchestra called Punta del Este. His music, much of it preserved in the recordings he made, has provided concert items for various instruments and performers.