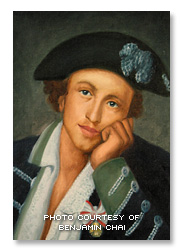 Joseph Martin Kraus (1756 - 1792)
A man of wide literary interests, the German composer Joseph Martin Kraus was educated in Mannheim after university studies in Mainz, Erfurt and Göttingen and found a place for himself in Stockholm at the court of King Gustavus III. Admired by Gluck and Haydn, whom he had met in the course of journeys abroad, he remained in the service of the King, dying nine months after the latter's assassination.
Operas
Kraus wrote a number of operas, including Aeneas i Cartago, Proserpina and Soliman II, the last of these based on the original French text by Favart. He also provided a quantity of incidental music and additional entr'actes, arias and choruses for works by other composers.
Vocal Music
Kraus wrote cantatas, sacred music and a number of songs, setting texts in various languages. His German songs include several settings of poems by Matthias Claudius.
Orchestral Music
Orchestral music by Kraus includes a number of symphonies and overtures, all of which reflect his early Mannheim background.
Chamber Music
Chamber music by Kraus includes some nine string quartets, violin sonatas and other works for various instrumental ensembles, reminders of the fact that he was a close contemporary of Mozart (born in the same year and dying one year after him).
Piano Music
Kraus wrote relatively little for the piano; works include two sonatas that aptly reflect the style of his time.