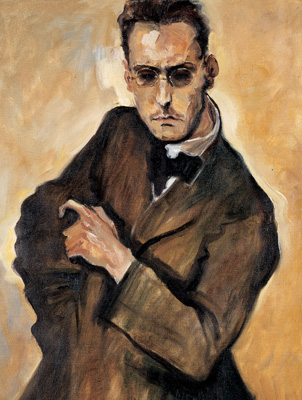 Anton Webern (1883 - 1945)
Webern, with Alban Berg, was a pupil of Arnold Schoenberg in Vienna, moving in style to atonalism (music without tonality or key centre) and then 12-note music or serialism (music based on a series of the 12 semitones or half-steps of the modern scale). He wrote music of brief concision and often of extreme delicacy. His influence on later composers has been considerable.
Music
Webern's sensitive technical command is shown in his Orchestral Variations of 1940, while his innovative approach to the past is demonstrated in his version of a Bach fugue, Fuga (Ricercata). Works originally intended for orchestra include the Passacaglia of 1908, the Six Pieces of 1909, the Five Pieces for small orchestra completed in 1913, and a Concerto for violin, clarinet, horn, piano and strings. These all underwent a measure of transformation in varying arrangements. Webern's Symphony of 1928 lacks a projected third movement. His style is apparent in the music he wrote for solo instruments or smaller ensembles. These range from the Five Movements for string quartet of 1909 to the String Quartet of 1938. His Piano Variations were written in 1935–6. His songs include settings of poems by Richard Dehmel and Stefan George, and verse taken from Bethge's Die Chinesische Flöte.