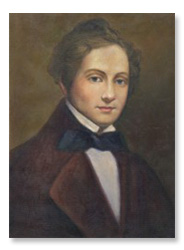 Albert Lortzing (1801 - 1851)
Lortzing, born in Berlin in 1801, had early stage experience as an actor and singer with his parents, who had turned their amateur theatrical experience to good use when the family leather business declined. He enjoyed success as a composer of opera but was less effective as a conductor and suffered considerable financial hardship. This was partially alleviated by a final appointment, in 1850, to a minor Berlin theatre specialising in farces and plays for which he provided the music.
Operas
Lortzing's opera Zar und Zimmermann ('Tsar and Carpenter'), based on an episode in the life of Peter the Great of Russia and written in 1837, retains a place in general international repertoire. Others include Undine, a magic opera based on the well-known story of the water-sprite and her love for a mortal, Der Wildschütz ('The Poacher') and Der Waffenschmied ('The Armourer').