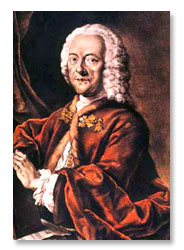 Georg Philipp Telemann (1681 - 1767)
Among the most prolific and most famous composers of his generation, Telemann was born in 1681 at Magdeburg and educated at the University of Leipzig, where he founded the University Collegium Musicum and was the city council's preferred candidate for the position of Thomascantor in 1723, when Bach was eventually appointed. Telemann had established himself in Hamburg in 1721 as Cantor of the Johanneum and director of music for the five principal city churches. He remained in Hamburg until his death in 1767, when he was succeeded by his godson, Carl Philipp Emanuel Bach, son of Johann Sebastian Bach. In his long career Telemann wrote a great deal of music of all kinds in a style that extends the late Baroque into the age of Haydn.
Church Music
Telemann's church music includes 46 settings of the Passion and 1,043 cantatas, oratorios, Masses, motets and psalms.
Operas
Telemann wrote operas and other music for the stage, little of it now heard.
Secular Vocal Music
Of the various secular cantatas written by Telemann the best known today is Der Schulmeister.
Orchestral Music
In addition to a number of suites or overtures, Telemann wrote nearly 50 concertos for various solo instruments, including 21 for violin and eight double violin concertos. A Viola Concerto remains a necessary part of an otherwise meagre concerto repertoire for the instrument, and there are useful concertos for one and for two French horns, for trumpet, for oboe d'amore and for recorder. A number of instrumental compositions were brought together in the Tafelmusik or Musique de table of 1733.
Chamber Music
Telemann was equally prolific in the field of chamber music. He provided a quantity of works for solo instruments, including a set of a dozen fantasias for unaccompanied violin, and works for various groups of instruments (duos, trios, quartets and quintets).