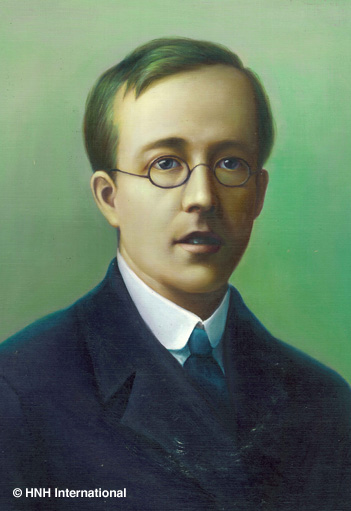 Gustav Holst (1874 - 1934)
Gustav Holst, of Scandinavian ancestry on his father's side, was born in the English spa town of Cheltenham in 1874 and studied music at the Royal College in London, using his second study, the trombone, to provide an income. He later became director of music at St Paul's Girls' School, retaining this connection until the end of his life. His music had a variable reception in his lifetime, but he exercised a strong influence on later English composers.
Stage Works
Holst wrote a number of works for the theatre, their subjects reflecting his varied interests, from Hindu mythology to Shakespeare and the medieval world of the Wandering Scholar. From his final chamber opera The Perfect Fool, first staged in 1923, with its parodies of Verdi and Wagner, comes a better-known ballet suite. The opera itself is seldom performed.
Vocal and Choral Music
As a choral conductor, Holst wrote a considerable amount of choral music, accompanied and unaccompanied, including arrangements of folksongs and a smaller number of solo songs.
Orchestral Music
By far the best known of all Holst's compositions is The Planets, a sequence of seven movements, reflecting the composer's interest in astrology and the generally attributed qualities of each. 'Jupiter, The Bringer of Jollity' provided the melody for a popular patriotic hymn, while 'Mars, The Bringer of War', suggests the period of the work's composition: between 1914 and 1916. For string orchestra he wrote the St Paul's Suite, completed in 1913, and in 1933 the Brook Green Suite. The two suites for military band were written in 1911. His Suite de ballet, Op. 10 was written in 1899 and revised in 1912.