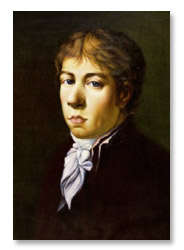 Johann Nepomuk Hummel (1778 - 1837)
The reputation of Hummel has been clouded by time. Born in Pressburg (the modern Bratislava) in 1778, he was a pupil of Mozart and enjoyed a successful career as a pianist and composer. He was employed, not entirely to his employer's satisfaction, by the Esterházy family at Eisenstadt as Konzertmeister, while Haydn, now in retirement in Vienna, continued as nominal Kapellmeister. Hummel later served as Kapellmeister at Stuttgart and from 1818 at Weimar.
Choral and Vocal
Hummel, in his long career, wrote a number of dramatic works of various kinds. In addition to his many songs, he set liturgical texts and suitably celebratory cantatas for some of his patrons. His 1806 Missa solemnis was written for the marriage of his patron Prince Nicolaus Esterházy II's daughter.
Orchestral Music
Recent recordings and performances have revived some interest in two of Hummel's half-dozen or so piano concertos, notably Opp. 85 and 89. His Trumpet Concerto is a useful part of current repertoire.
Chamber Music
Hummel's Op. 87 Piano Quintet is particularly interesting in its scoring: it is the same as that of Schubert's famous 'Trout' Quintet, with which it is sometimes coupled in recording. Both quintets are scored for piano, violin, viola, cello and double bass.
Keyboard Music
As a virtuoso performer himself, Hummel wrote a large number of works for solo piano, in the style he had inherited and developed from his early lessons with Mozart. In addition to this array of sonatas, studies, bagatelles and other works, he also wrote a few pieces for the organ, published posthumously.