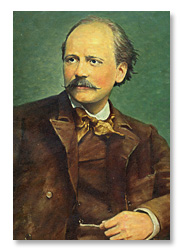 Jules Massenet (1842 - 1912)
The leading operatic composer of his generation in France, Jules Massenet studied at the Paris Conservatoire, winning the Prix de Rome in 1863. In Paris once more, after his obligatory three years' stay at the Villa Medici in Rome, he achieved initial success with his operas Don César de Bazan and Marie-Magdeleine; the heroine of the latter, a repentant female sinner, exercised a particular interest and influence on Massenet's future work. He maintained a dominant position in French opera at least until the appearance of Debussy's Pelléas et Mélisande, although this innovative work nevertheless shows something of his influence.
Operas
Of some three dozen stage works, Massenet's opera Manon is perhaps the best known, a version of the novel by the Abbé Prévost also used by Puccini. The opera Werther is based on Goethe's Sorrows of Young Werther, while Thaïs is known by name to many because of its famous violin solo, 'Méditation'. The opera Le Cid, based on Corneille's play on the subject of the historical Spanish hero and first staged in Paris in 1885, has a spectacular second-act ballet-fiesta, which forms part of a subsequent orchestral suite.