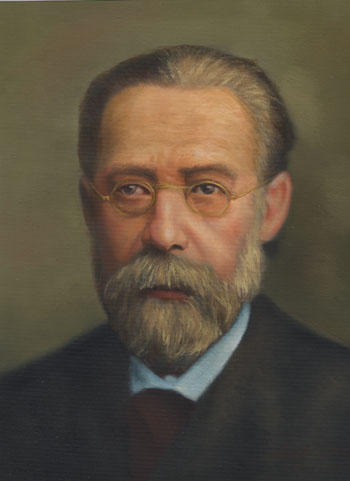 Bedřich Smetana (1824 - 1884)
Smetana holds an important place in the development of musical nationalism in his native Bohemia, where he was born in 1824, the son of a master brewer in the service of Count Waldstein and others. His career was interrupted by a period of self-imposed exile in Sweden after the political disappointments that followed the turmoil of 1848. He was instrumental in the establishment of Czech national opera and a Czech national style, in particular in his symphonic poems. He was deaf in later life but continued to compose, an autobiographical element appearing in his string quartets.
Operas
The best known of Smetana's operas is The Bartered Bride, the overture of which makes a brilliant opening to any orchestral concert programme. His other operas have enjoyed less international success.
Orchestral Music
The best known of Smetana's orchestral works is the cycle of symphonic poems Má vlast ('My Country'). It comprises six movements, of which 'Vltava' ('River Moldau'), which follows the historic course of the river as it flows towards Prague, is the most frequently heard.
Chamber Music
Smetana wrote two string quartets, the first with the title 'From My Life'. There is a G minor Piano Trio and two short pieces for violin and piano under the title From My Homeland.