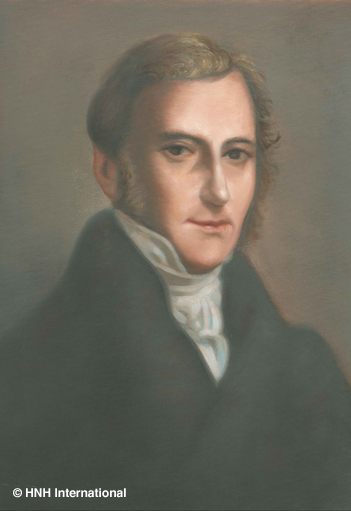 Louis Spohr (1784 - 1859)
The name of Louis Spohr remains well known to violinists, many of whom have been brought up to play some at least of his 15 violin concertos. He was born in Brunswick in 1784 and established himself as a leading virtuoso violinist and as a composer. As a conductor he made use of a baton, a practice unusual at the time and one that alarmed orchestral players in London, who anticipated aggressive intentions. From 1822 until his death in 1859 he was director of music at Kassel, a position initially offered him on the suggestion of Weber. His compositions include a number of works featuring violin and harp that were written for himself and his wife, the harpist Dorette Scheidler.
Orchestral Music
Symphonies
Spohr completed nine symphonies, leaving a tenth unfinished. The later symphonies illustrate his move from the Classical style that he had inherited to music with a programmatic element. They remain relative rarities in the concert hall today.
Concertos
Spohr wrote 15 violin concertos, the first completed in 1803 and the last in 1844. The best known of these is probably No. 8, which incorporates an operatic element. Other concertos include two double violin concertos and four concertos for clarinet. The latter are an important and popular part of solo clarinet repertoire and were written for the clarinettist Johann Simon Hermstedt.
Chamber Music
Spohr wrote some three dozen string quartets, an Octet, four double string quartets and seven quintets in addition to a number of violin duos of principal interest to teachers. The best known of his works for chamber ensemble is the Nonet for flute, oboe, clarinet, horn, bassoon, violin, viola, cello and double bass.
Choral Music and Song
Spohr responded to the current fashion for oratorio, and also wrote other sacred and secular choral works. His 90 songs are an interesting if neglected element of German vocal repertoire.
Stage Works
Operas by Spohr, now generally neglected, include Jessonda among the better known. He also composed an opera on the subject of Faust.