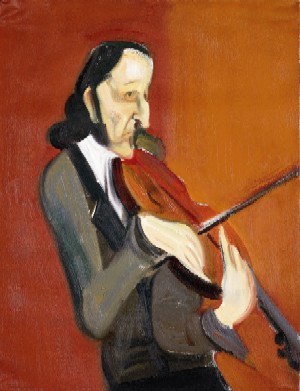 Niccolò Paganini (1782 - 1840)
Paganini was the greatest violinist of his age, exercising a strong influence on the developing technique of violin playing and, through his virtuosity on the instrument, on the ambitions of performers on other instruments. Born in Genoa in 1782, he studied there, at first with his father. He spent eight years from 1801 at Lucca, later as solo violinist to the court of Napoleon's sister, who was installed there as ruler by her brother. From 1810 he travelled as a virtuoso, at first in Italy and then, from 1828, abroad, causing a sensation wherever he went, his phenomenal technique giving rise to rumours of diabolical assistance. His career went into partial decline from 1834, followed by a significant deterioration in health. He died in Nice in 1840.
Music for Violin and Orchestra
Paganini wrote a number of works for violin and orchestra for his own concert use. These include five numbered concertos, the second of which, the Concerto in B minor, contains the movement 'La campanella', borrowed later by Liszt. Sets of variations for violin and orchestra include I palpiti, based on an operatic aria by Rossini, and Le streghe, based on a theme from an opera by Mozart's pupil Süssmayr.
Chamber Music
Music of another kind is provided in the works for violin and guitar written by Paganini, who also had a considerable interest in the second instrument. These compositions include groups of sonatas and a set of quartets for guitar and string trio.
Violin Solo
Paganini's 24 caprices for unaccompanied violin provide a compendium of violin technique and vehicles for dazzling virtuosic display. The last of the caprices was used by Brahms for two books of piano variations on the theme, and by Rachmaninov in his Rhapsody on a Theme of Paganini for piano and orchestra.