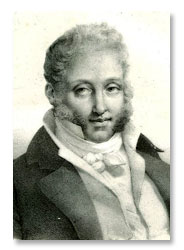 Ferdinando Carulli (1770 - 1841)
Carulli is a composer whose name is well-known chiefly to guitarists, both as the author of a useful teaching manual and as a composer. Born in Naples, he was at first a cellist, but turned as a young man to the guitar. He moved in 1808 to Paris, where he remained until his death in 1841.
Guitar Music
Carulli's compositions for the guitar include two concertos, musically insubstantial, but both effective vehicles for the instrument.