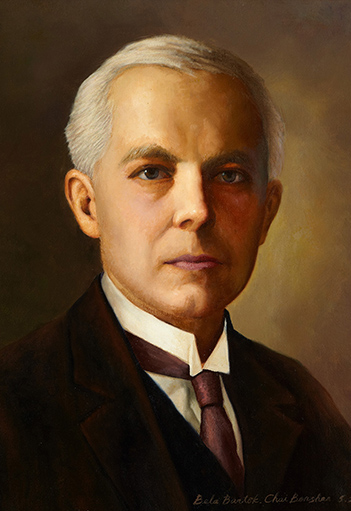 Béla Bartók (1881 - 1945)
Béla Bartók was one of the leading Hungarian and European composers of his time, proficient also as a pianist. He joined his friend Zoltán Kodály in the collection of folk music in Hungary and neighbouring regions, including, in his case, Anatolia. His work in this field deeply influenced his own style of composition, which is, however, very much more astringent in its apparent mathematical organisation than much of what Kodály wrote. He was out of sympathy with the government that replaced the immediate post-1918 republic in Hungary, where he was held in less official esteem than abroad, and moved in 1940 to the United States, dying there in relatively straitened circumstances in 1945.
Orchestral Music
Probably the best loved of Bartók's orchestral compositions is the Concerto for Orchestra, commissioned by Koussevitzky for the Boston Symphony Orchestra. The two violin concertos are important additions to the solo violin repertoire, as is the Viola Concerto, now to be heard in two possible reconstructions. This last and the Third Piano Concerto were left in various stages of incompleteness when Bartók died. Both are moving works, while the earlier two piano concertos have much to offer. Other important orchestral works that form not infrequent parts of concert programmes are the Divertimento for Strings and the challenging Music for Strings, Percussion and Celesta. The energetic Romanian Dances appear in various versions, including one for solo violin and string orchestra, arranged from an original piano composition.
Stage Music
Bartók wrote relatively little for the theatre. His opera Duke Bluebeard's Castle was first staged in Budapest in 1918, a year after the première of the ballet The Wooden Prince. The pantomime The Miraculous Mandarin enjoyed a succès de scandale in Cologne, where it was first staged in 1926.
Chamber Music
Bartók's six string quartets are a significant and important part of repertoire, extending the musical and technical range of the form. The 44 Duos for two violins are primarily educational compositions, but make attractive concert pieces in various groupings suggested by the composer, while the Sonata for Solo Violin follows, in a modern idiom, the example of J.S. Bach. Bartók's two violin sonatas date from the early 1920s, while Contrasts, for violin, clarinet and piano, was written in America for Szigeti, Benny Goodman and the composer.
A work of some importance is the spectacular Sonata for Two Pianos and Percussion, later rescored by the composer for two pianos and orchestra. The original version makes use of three kettledrums, a xylophone, two side drums, cymbals, suspended cymbal, bass drum, triangle and tam-tam, with the two pianos. It has an extended first movement, a night-music second and a tautly rhythmic third. Written in 1937, the sonata experiments fruitfully with the varied percussive sonorities of pianos and percussion instruments.
Piano Music
Mikrokosmos consists of six books of pieces of progressive difficulty, intended to be used for teaching, with the last two volumes including more demanding pieces possible for concert use. Folk melodies form the basis of 85 Pieces for Children, while Allegro barbaro shows the composer in a more aggressive mood.