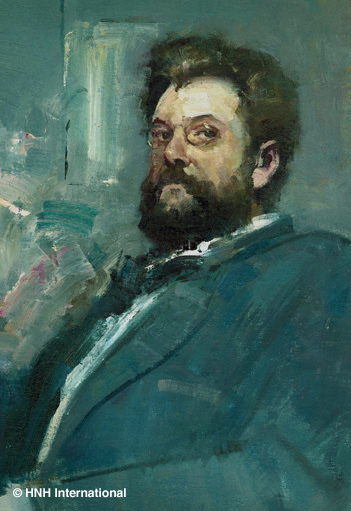 Georges Bizet (1838 - 1875)
Georges Bizet won early success as a composer and initially as a pianist. His later career in Paris was more variable, and a number of stage works remained unfinished at the time of his early death, which took place as his most famous opera, Carmen, was enjoying increasing favour.
Stage Works
Bizet's last opera, Carmen, is among the most famous of all operas, with its realistic Spanish setting and strongly dramatic story. Concert audiences are familiar with two concert suites drawn from the opera. His melodrama L'Arlésienne, a collaboration with the writer Alphonse Daudet, was coolly received in the theatre. The two suites from the work are well known, the second arranged by Bizet's friend Ernest Guiraud. His first important opera, the exotic Les pêcheurs de perles ('The Pearl Fishers'), set in Ceylon, includes the well-known duet for the two rival fishermen 'Au fond du temple saint' ('Within the sacred temple').
Orchestral Music
Bizet's only surviving symphony, written in 1855, was rediscovered and first performed in 1935.
Piano Music
Popular piano works include the duet Jeux d'enfants ('Children's Games'), part of which is sometimes heard in Bizet's own orchestral arrangement.