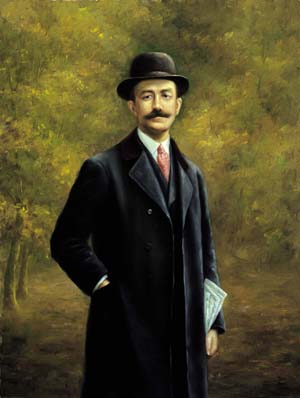 Manuel de Falla (1876 - 1946)
The music of Spain has exercised an exotic fascination, but often in forms adapted by foreign composers. Manuel de Falla is representative of a group of Spanish composers who won international recognition. He was born in 1876 in Cádiz, where he first studied, moving later to Madrid and then to Paris, returning to Madrid when war broke out in 1914. Strongly influenced by the traditional Andalusian cante jondo, he settled in Granada, where his friends included the poet Federico García Lorca. The Civil War of 1936 found de Falla neutral in the struggle, but in 1939 he moved to Buenos Aires. There, he continued work on his ambitious stage work Atlántida, which remained unfinished at the time of his death in 1946.
Stage Works
Manuel de Falla helped to support his family in Madrid after a change in their fortunes by composing zarzuelas, typically Spanish musical comedies. His first substantial stage work was the lyric drama La vida breve ('The Short Life'), completed in 1905 and first staged in Nice in 1913. The ballet El amor brujo ('Love the Magician'), with its ghostly story of gypsy jealousy, was first staged in Madrid two years later. The ballet El sombrero de tres picos ('The Three-Cornered Hat') reached its final form for its London production under the impresario Diaghilev in 1919. The puppet opera El retablo de maese Pedro ('Master Peter's Puppet Show'), based on an episode in the classical Cervantes novel Don Quixote, was completed in 1922. There are popular orchestral suites from the first three of these four works.
Orchestral Music
In addition to the concert version of El amor brujo and two suites from El sombrero de tres picos made by the composer, Manuel de Falla wrote an evocatively beautiful work for solo piano and orchestra under the title Noches en los jardines de España ('Nights in the Gardens of Spain'), completed in 1915.
Vocal Music
In 1915 de Falla also completed his arrangement of seven Spanish folk songs, Siete canciones populares españolas, now familiar not only in the original vocal version but in other arrangements (particularly an effective arrangement for violin and piano).
Chamber Music
Among chamber works by de Falla may be included the Concerto for Harpsichord, Flute, Oboe, Clarinet, Violin and Cello, which makes use of the early keyboard instrument that had played an important part in his puppet opera El retablo de Maese Pedro.
Piano Music
Piano works occupy a less important element among the compositions of Manuel de Falla, although the four Spanish Pieces and the early Serenata Andaluza offer pieces in characteristically Spanish musical idiom.