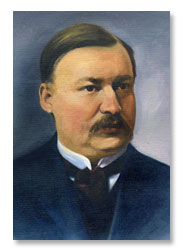 Alexander Konstantinovich Glazunov (1865 - 1936)
Glazunov, a pupil of Rimsky-Korsakov, received encouragement also from Belyayev, an influential patron and publisher whose activities succeeded and largely replaced the earlier efforts of Balakirev to inspire the creation of national Russian music. Glazunov joined the teaching staff of the St Petersburg Conservatory in 1899 and after the student protests and turmoil of 1905 was elected director, a position he retained until 1930 (although from 1928 he remained abroad, chiefly in Paris, where he died in 1936). His music represents a synthesis between the Russian and the so-called German—the technical assurance introduced by the Rubinstein brothers in the Conservatories of St Petersburg and of Moscow in the middle of the century.
Orchestral Music
In addition to his nine symphonies and a variety of other orchestral works, Glazunov wrote a violin concerto, completed in 1904, when he was at the height of his powers as a composer. The symphonies have won less popularity, but the symphonic poem Stenka Razin, written in 1885, retains a place in national repertoire.
Ballets
Glazunov's ballets include Raymonda, first staged in St Petersburg in 1898, with choreography by Marius Petipa. Les Ruses d'amour followed in 1900, with The Seasons in the same year. He orchestrated music by Chopin for Les Sylphides. The choreographer Fokin also made use of Stenka Razin for a ballet of that name.
Chamber Music
Chamber music by Glazunov includes seven numbered string quartets, the last written in 1930, and a series of works for other instrumental ensembles, including a string quintet and a saxophone quartet.
Piano Music
Glazunov's piano music includes, among more serious works, a number of quite pleasing examples of salon music, for which there was always a ready public in his day.