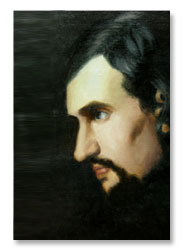 Charles-François Gounod (1818 - 1893)
Gounod had a particularly strong influence on French composers from the middle of the 19th century. He was educated at the Paris Conservatoire, where he won the Prix de Rome in 1837. His return to Paris in 1843, after developing a wide knowledge of earlier and contemporary music abroad, brought a position as an organist. He achieved considerable success in the theatre, particularly with the opera Faust in 1859, but the Franco-Prussian War of 1870 and a period spent in England brought a largely unprofitable interruption. His influence on English vocal music, however, was perceptible and not always for the best.
Operas
Goethe's drama Faust had a wide influence over artists of all kinds during the 19th century, a period when Faust might be identified by some with the heroic artist and champion of freedom from conventional restraints. Gounod's opera Faust is concerned principally with Faust's seduction of Marguerite, whose own redemption is secured while Faust remains the prey of the devil Mephistopheles. Recital arias from Faust include the Mephistophelean 'Le Veau d'or' ('The Golden Calf'), the tenor 'Salut! Demeure', and Marguerite's jewel song, 'Ah! je ris'. Choral societies have enjoyed the famous 'Soldiers' Chorus', while the Walpurgisnacht ballet music has provided orchestras with an item of concert repertoire. Gounod's Roméo et Juliette, an operatic version of Shakespeare's play, was staged in Paris in 1867. Juliette's waltz song 'Je veux vivre' is a familiar soprano aria, while tenors express their feelings in Roméo's 'L'amour, l'amour'.
Church and Choral Music
Gounod's church music has seemed to some excessively sweet, a charge that cannot justly be levelled at the Messe solennelle de Ste Cécile ('Solemn Mass of St Cecilia', patron saint of music). By far the most generally known of his religious music, not intended for church use, was the Ave Maria derived from the first Prelude of Bach's 48 Preludes and Fugues. Gounod himself and others transcribed the piece for various combinations of instruments. Gounod's oratorio Tobie ('Tobias') was written in 1865, while the oratorio Gallia, described as a lament, was written in 1871, after the French defeat at Sedan.
Orchestral Music
Gounod wrote two symphonies, but it is his Petite Symphonie of 1885, for 9 wind instruments, that has proved more attractive. His energetic Saltarello, an Italian dance akin to the tarantella, was seemingly written in 1865.
Vocal Music
Although Gounod happily provided music to suit English sentimental taste, in songs suitable for the Victorian drawing-room, he added music of more substance in some of his many French songs, even those of a certain sentimental piety, such as Prière du soir ('Evening Prayer'). There is a setting of Venise, a poem by Alfred de Musset, and Victor Hugo's Sérénade. O ma belle rebelle and D'un coeur qui aime may also be mentioned, among a considerable number of songs.