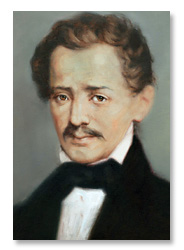 Johann Strauss I (1804 - 1849)
Founder of the Strauss dynasty of Viennese light-music composers, Johann Strauss established his own dance orchestra, enjoying incredible popularity as composer, conductor and violinist in the ballrooms of Vienna and abroad.
Dance Music
Strauss wrote a large quantity of dance music: waltzes, cotillions, galops, quadrilles, polkas and marches. Of these last the Radetzky March enjoyed the greatest popularity.