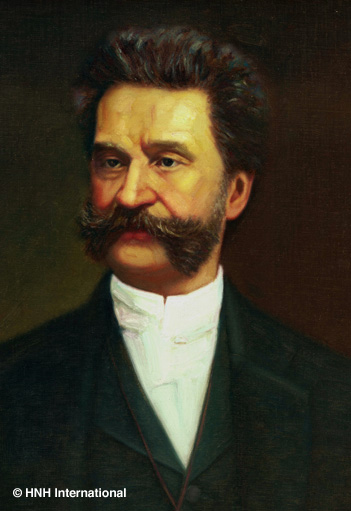 Johann Strauss II (1825 - 1899)
The eldest son of Johann Strauss, and not intended by his father for a career in music, Johann Strauss the younger nevertheless established an unrivalled reputation throughout the second half of the 19th century as a composer and purveyor of light Viennese music. He involved his two younger brothers in the management and direction of dance orchestras that performed both in Vienna and abroad.
Stage Works
The younger Johann Strauss wrote some 16 operettas between 1871 and 1897. Of these the best known is Die Fledermaus ('The Bat'), characteristic in plot and music of Vienna at its most lighthearted. Other operettas are more familiar through dances extracted from them, although Der Zigeunerbaron ('The Gypsy Baron') remains second only to Die Fledermaus in terms of popularity.
Dance Music
Dance music by the younger Johann Strauss comprises waltzes, polkas, quadrilles, marches and other works. Among these the most familiar remains An der schönen, blauen Donau ('The Blue Danube'), originally a choral waltz sequence. Strauss, like his father, was extremely prolific as a composer, writing several hundred dances in various forms.