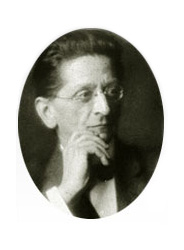 Alexander Zemlinsky (1871 - 1942)
Friend, teacher and later brother-in-law of Schoenberg, Alexander Zemlinsky won growing importance in the Viennese musical world at the beginning of the 20th century. He taught Alma Mahler, who discussed with her husband, with reference to Zemlinsky, the relationship between physical ugliness and spiritual beauty. His earlier career was at the Vienna Volksoper, in Prague and in Berlin. 1933 forced his return to Vienna, from where he fled in 1938 via Prague to the United States of America, dying there in 1942.
Stage Works
Mahler promised, before his resignation, to stage the ballet Das gläserne Herz at the Vienna Court Opera, a work based on Hofmannsthal from which an orchestral suite was later derived. Zemlinsky's two operas based on Oscar Wilde, Eine florentinische Tragödie ('A Florentine Tragedy') and Der Zwerg ('The Dwarf'), based on Wilde's The Birthday of the Infanta, won contemporary success.
Orchestral Music
In addition to three symphonies, Zemlinsky wrote a Lyric Symphony for soprano, baritone and orchestra, based on Rabindranath Tagore, and, in 1934, a Sinfonietta. His Die Seejungfrau ('The Little Mermaid'), a fantasy for orchestra, is based on the story by Hans Andersen.
Chamber Music
Chamber music by Zemlinsky includes four string quartets and a Clarinet Trio.
Piano Music
Zemlinsky's reputation as a composer does not rest on his piano music, which represents a relatively small part of his work, generally dating from early in his career.
Vocal and Choral Music
Choral works by Zemlinsky include psalm settings, while his songs, worthy of attention, continue an older German tradition in the context of Vienna at the time of the Second Viennese School.