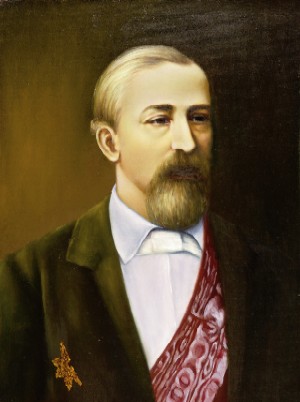 Alexander Porfir'yevich Borodin (1833 - 1887)
Borodin was a member of The Five, or The Mighty Handful (so named by the Russian critic and librarian Vladimir Stasov). These were the principal nationalist composers in later-19th-century Russia, following the example of Glinka, their forerunner. Borodin, like some of his musical colleagues, pursued a career in addition to music, winning distinction as a professor of chemistry. His output was limited by the amount of attention he was able to give to composition, and at his death he left a number of works unfinished (subsequently completed by his friend Rimsky-Korsakov and others).
Operas
Borodin's most famous opera, Prince Igor, was completed by Rimsky-Korsakov and Glazunov. It includes the famous 'Polovtsian Dances', choral dances with which the captive prince is entertained by Khan Konchak.
Orchestral Music
The best-known example of Borodin's orchestral music is the musical picture In the Steppes of Central Asia, a vivid evocation of an exotic region. The second of his three symphonies occupied him intermittently for seven years; it is an attractive and very Russian work, which, along with Symphony No 1 and the unfinished Third Symphony, forms an important addition to nationalist symphonic repertoire.
Chamber Music
Borodin's proposed composition of string quartets excited the suspicions of fellow nationalists, who sensed a surrender to what they regarded as foreign, German techniques. The two string quartets that he completed, however, were firmly Russian in inspiration, in spite of their technically competent form. The Second Quartet includes the famous Nocturne, all too familiar from many arrangements. Other chamber music of interest includes a piano quintet, a string quintet and a cello sonata that is based on a theme from JS Bach's Sonata in G minor, BWV 1001.