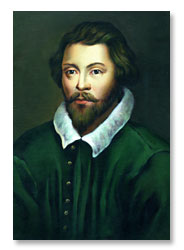 William Byrd (1540 - 1623)
The greatest English composer of his generation, comparable in stature to his most distinguished continental contemporaries, William Byrd was a versatile composer. Although remaining a Catholic, loyalty that cost him considerable trouble in times of persecution in England, he served as a member of the Chapel Royal, providing music for the liturgy of the Church of England and, on a more private scale, for his fellow Catholics.
Church Music
Byrd's church compositions may be separated into those for the Catholic liturgy and those designed for the officially recognised Church of England. The first category includes settings of the Mass for three, four and five voices, and a large quantity of other works for the various seasons of the church year. For the Church of England Byrd wrote a Great Service and three other service settings, using the texts of the Anglican liturgy. In addition, there are a number of anthems, psalm settings and consort songs with sacred texts of one sort or another.
Vocal Music
Byrd also wrote a number of secular consort songs—songs with accompaniment entrusted to varying numbers of instruments.
Consort Music
Following the popular fashion of the time, Byrd provided music for various groups of instruments, usually to be performed in homogeneous ensembles and generally on viols (bowed and fretted string instruments that were held in higher social esteem than the lowly violin). Byrd's consort music includes a number of In Nomines, a curious English form of music based on a fragment taken from a setting of the Benedictus by the 16th-century composer Taverner. To these consort pieces may be added a series of fantasias (contrapuntal music, as the title then implied).
Keyboard Music
Byrd was well-known as a keyboard player. He wrote a wealth of music for the virginals: fantasias, pavans and galliards (the fashionable paired dances of the time), and song variations. The Earl of Salisbury Pavan and Galliard is a familiar recital piece, as are the variations on Sellinger's Round and The Carman's Whistle. Some of these are among the 42 pieces preserved in My Ladye Nevells Booke, a finely bound volume, copied in 1591 for the wife of Sir Henry Nevell and since 2006 in the possession of the British Library.