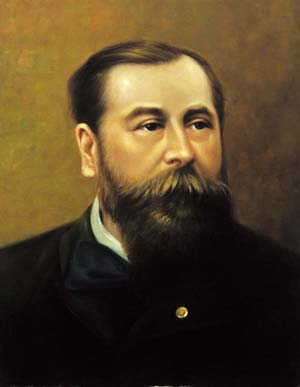 Léo Delibes (1836 - 1891)
Léo Delibes was trained at the Paris Conservatoire, where he achieved no particular distinction. His first major triumph came with the ballet Coppélia, based on a story by ETA Hoffmann and staged at the Opéra in 1870. He excelled as a composer of operetta, his career culminating in equally successful operas of a more serious kind.
Stage Works
Delibes won early success with Coppélia and its Hoffmann story of old Dr Coppelius and his doll Coppélia, who seems to come to life. He followed this in 1876 with Sylvia, set in pagan Greece. The 1866 ballet La Source had given Delibes an earlier opportunity, in collaboration with the established composer Minkus. In 1882 Delibes wrote a set of pastiche ancient airs and dances for Victor Hugo's play Le Roi s'amuse, later to provide a subject for Verdi's opera Rigoletto. His opera Lakmé, dealing with the love of a British officer and the daughter of a Brahmin priest in mid-19th-century India, provides the well-known 'Bell Song' for ambitious coloratura sopranos. The 'Flower Duet', popularised by its recent commercial use, remains singularly attractive. Delibes's last opera, Kassya, was orchestrated by Massenet after the composer's death.