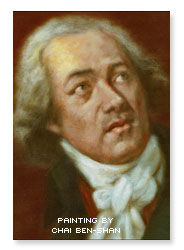 Leopold Koželuch (1747 - 1818)
Leopold Koželuch was an esteemed contemporary of Mozart, and in many circles considered the finer composer. He was an early champion of the fortepiano and his Keyboard Sonatas are a treasure trove of late eighteenth-century Viennese keyboard style, including perfect examples of the form and foreshadowing Beethoven and Schubert.
Leopold Koželuch was born in Velvary, northwest of Prague in 1747. He was christened Jan Antonín but changed his name to Leopold to avoid confusion with his older cousin, also a musician, of the same name. His Czech family name of Koželuh ('tanner') became Koželuch to make it more manageable in German. Cousin Jan Antonín became one of Leopold's earliest teachers, along with František Xavier Dušek, a noted Czech keyboard player and composer. In 1778, after some success as a composer of ballet music and having relinquished law studies, Koželuch moved to Vienna, Europe's thriving musical centre and, as Mozart was to remark, 'the land of the Clavier'. Koželuch soon established a fine reputation as a fortepianist, composer and teacher. By 1781 he was regarded so highly that the Archbishop of Salzburg offered him Mozart's former post as court organist. He declined, later stating to a friend 'the Archbishop's conduct toward Mozart deterred me more than anything; for if he could let such a man as that leave him, what treatment should I have been likely to meet with?' In 1784 Koželuch founded his own publishing firm (Musikalisches Magazin) in the same year as Hoffmeister and slightly behind Artaria (1778) and Torricella (1781). This was to provide an ideal vehicle for the publication of his compositions. He also forged valuable and profitable links with European publishers, notably in Paris (Boyer, Leduc and Sieber), London (Birchall, Longman and Bland), and Amsterdam. In 1792 he succeeded Mozart as Kammer Kapellmeister and Hofmusik Compositor to Emperor Franz II and remained in that post until his death in 1818. After 1802 Koželuch became associated with George Thomson, a man with an insatiable appetite for Scottish, Irish and Welsh folk-song arrangements (other contributors included Pleyel, Haydn, Beethoven and Hummel). This lucrative work and his court duties kept him busy for the remainder of his working life.