Period(s):
Classical (1750-1830)
When such an internationally celebrated singer as Pavol Breslik, an artist progressively adding to his repertoire, nevertheless keeps returning to Mozart, he is warmly praised by the critics and more than that, he has no qualms about his decision: "When I go back to Mozart after excursions into other repertoire – like Lensky or bel canto –and feel at home with Tamino, I know I have done the right thing."
The burning question of how to master these demanding Mozart vocal roles has been answered again and again, without embarrassment and with sustained success, from the very start of his career. Born in Slovakia in 1979, the young artist made his professional singing debut at the age of twenty-one in the challenging role of Don Ottavio, in the very city where Don Giovanni was premiered: Prague. Since then, he has added to his tally of such roles on many of the world's leading stages: Salzburg in 2008 (staged by Claus Guth), the Munich production of 2009, Vienna Staatsoper in 2011, London under Constantin Carydis and Los Angeles under Dudamel in 2012 and at last in 2013 Zurich, where the artist is resident. And Pavol Breslik does justice to the very different Prague and Vienna arias that are to be heard here not only in the studio but when necessary – as in Munich – live on stage.
Pavol Breslik enjoyed great success at another Mozart premiere location, in Dieter Dorn's new staging of Idomeneo at the 2008 reopening of the Cuvilliés Theatre in Munich, in the role of Idamante. Also to be heard here is the great "Fuor del mar" aria of the title role, sung by the priest Idomeneo, Idamante's father. In this latter aria, needless to say, the singer rises to the challenge of the original version's virtuoso ornaments, which Mozart spared his elderly soloist at the work's first performance.
Of Belmonte's four arias in Die Entführung, the two most important are included here, "Konstanze, dich wieder zu sehen" and "Ich baue ganz auf deine Stärke", known as the "master builder's aria" and often dropped on account of its wide vocal range, challenges and length.
Having sung the role of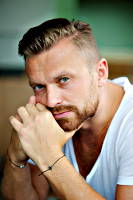 Pavol Breslik
Foto: Neda NavaeeFerrando in Così fan tutte in 2010 at the New York Met and in London, Pavol Breslik was regrettably obliged to withdraw at short notice from Dieter Dorn's Munich production on account of an inflammation of the vocal cords. The present "Un' aura amorosa" is a later recording.
Breslik now treats Tamino almost as his showpiece among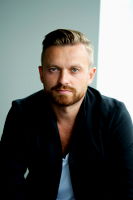 Pavol Breslik
Foto: Neda NavaeeMozart roles; he sang it at an early age in his home city of Bratislava, he has been singing it at Berlin's Staatsoper Unter den Linden ever since his ensemble years there, he made his 2006 debut with it at the Bavarian Staatsoper, and only lately he embodied the part in the Baden-Baden production under Simon Rattle. As the role contains just one real aria, it is followed by the enchantment scene with the magic flute and a scene with the reciter, here played by the venerable José van Dam.
From our singer's impressively large repertoire of concert arias comes one of his favourites, "Misero! O sogno – Aura che intorno spiri", sung in operatic manner that with its dramatic recitative and elegiac lamentation movingly conveys the sorrow of farewell.
Idomeneo re di Creta, K. 366 (excerpts)
Don Giovanni, K. 527 (excerpts)
Così fan tutte, K. 588, Act I: Un aura amorosa
Die Entführung aus dem Serail (Abduction from the Seraglio), K. 384 (excerpts)
Die Zauberflöte (The Magic Flute), K. 620 (excerpts)
Misero! o sogno … Aura che intorni spiri, K. 431
Total Playing Time: 55:29