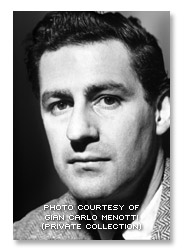 Gian Carlo Menotti (1911 - 2007)
Born in Italy, Gian Carlo Menotti studied at the Milan Conservatory and later at the Curtis Institute in Philadelphia. Chiefly known for his operas, he also wrote in a variety of other genres, always in an approachable musical language that remains based in Italian lyrical tradition.
Operas
Menotti provided his own texts for around two dozen operas, some of which have enjoyed remarkable popular success due to their dramatic and musical qualities. Particularly notable are The Medium, the light-hearted The Telephone, The Consul, and the Christmas television opera Amahl and the Night Visitors, while Help, Help the Globolinks! provides children with an operatic glimpse of the extra-terrestrial. Other operas by Menotti include Amelia al Ballo ('Amelia Goes to the Ball'), The Old Maid and the Thief, The Saint of Bleeker Street, Martin's Lie, The Hero, The Most Important Man and Tamu-Tamu.