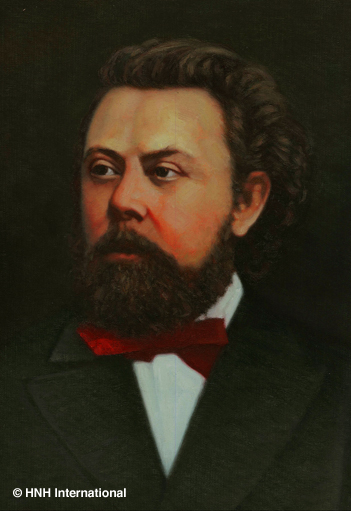 Modest Petrovich Mussorgsky (1839 - 1881)
Mussorgsky was one of the five Russian nationalist composers roughly grouped under the influence of the unreliable Balakirev. Initially an army officer and later, intermittently, a civil servant, Mussorgsky left much unfinished at his death in 1881. Nevertheless, his influence on composers such as Janáček was considerable, not least in the association he found between speech intonations and rhythms and melody.
Rimsky-Korsakov, a musician who had acquired a more conventional technique of orchestration and composition, revised and completed a number of Mussorgsky's works, versions which now may seem inferior to the innovative original compositions as Mussorgsky conceived them.
Operas
The greatest of Mussorgsky's creations was the opera Boris Godunov, based on Pushkin and Karamazin, with a thoroughly Russian historical subject. He completed the first version in 1869 and a second version in the 1870s, but it was Rimsky-Korsakov's version that was first performed outside Russia. The opera provides an important part for a bass in the role of Boris. Other operas by Mussorgsky include Khovanshchina, completed and orchestrated by Rimsky-Korsakov. A later version by Shostakovich restores more of the original text. The opera Sorochintsy Fair, after Gogol, completed by Lyadov and others, includes the orchestral favourite A Night on the Bare Mountain—an orchestral witches' sabbath.
Piano Music
Mussorgsky's 1874 suite Pictures at an Exhibition, a tribute to the versatile artist Hartman, has proved the most popular of all the composer's works, both in its original version for piano and in colourful orchestral versions, of which Maurice Ravel's has proved the most generally acceptable. Linked by 'Promenades' for the visitor to the exhibition, Mussorgsky represents in music a varied collection, from the 'Market of Limoges' and the 'Catacombs' to the final 'Great Gate of Kiev'—a monumental translation into music of an architectural design for a triumphal gateway.
Vocal Music
Mussorgsky wrote a number of choral works and songs, many of the latter of considerable interest, including the group The Nursery. 'The Song of the Flea', based on Goethe's Mephistophelean song in Faust, is a bass favourite.