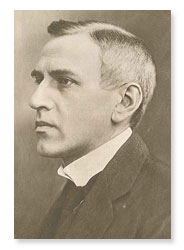 Wilhelm Stenhammar (1871 - 1927)
Writing in a style that was essentially Romantic, if modified by his study of Classical composers, the Swedish composer Stenhammar enjoyed a successful career also as a pianist and then, primarily, as a conductor.
Orchestral Music
As a leading composer of his generation in Sweden, Stenhammar contributed to a variety of genres. Two symphonies and two piano concertos, in addition to a number of less substantial works, are still in today's repertoire. The Interlude from his important cantata Sången is a frequent concert item.
Chamber and Instrumental Music
Stenhammar left six string quartets, a Violin Sonata, and a relatively small number of piano compositions, including two sonatas, three fantasies and a variety of shorter pieces.