Period(s):
20th Century; Romantic
On their new CD the Latvian Skride sisters present yet more composers from their extended Baltic homeland region (allowing that they include Norwegian Edvard Grieg, especially since he composed his Sonata in Copenhagen, then called Christiania). The uniting thread of the works on this CD is "finding one's own sound", something which each of the featured composers first had to find, and an element that the sisters effortlessly achieve as performers. All four composers on this recording share a close link with the violin, and all four had an ambivalent relationship with the German tradition. Grieg emerged as the lodestar above his three younger colleagues with his Sonata No. 2 in G major op. 13 of 1867; all four were friends and the other three dedicated their works to him. Grieg's Sonata introduces folk music influences into the expanded Romantic form in a completely new manner: not just as a quote or "tone", but as an integral compositional element on all levels, from the dramatically erupting, cadenza-like violin solo through to the internal motivic work. Throughout the entire piece, the piano is given what was once known as the "precentor/cantor function" .
Wilhelm Stenhammar,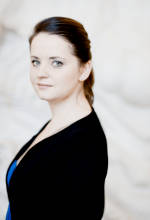 Baiba Skride
Foto: Marco Borggrevea leading Swedish conductor of his time and a brilliant concert pianist, was very fond of chamber music both as a performer and as a composer. In addition to the six string quartets which are regarded as his main oeuvre, he left this Violin Sonata in A minor op. 19 of 1899 to posterity. While still paying tribute to the German tradition, the sonata transcends that style while merely touching upon Romantic and folk elements. In return he subtly invokes his own mysterious "semi-frankness" towards the future, which makes considerable demands upon the violin with long passages in high registers, sometimes transposed an octave.
Jean Sibelius and Carl Nielsen,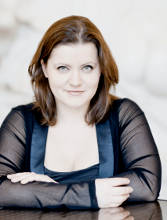 Lauma Skride
Foto: Marco Borggrevewho were good friends, played and composed a great deal of chamber music. They composed one violin concerto each (both featured on Baiba Skride's previous CD recording, C 896152 on ORFEO). While Nielsen's works for solo violin centre on three mature sonatas with piano accompaniment, Sibelius wrote a large number of short pieces for violin and piano, often combined into groups of works, such as the four brought together here as op. 78. They represent the greatest conceivable contrast to the great composer's seven famous, large-scale symphonies. In the smaller scale form, the often erratic symphonist reveals himself as an utterly different, yet no less able composer. He is able to evoke moods that emerge for a moment and then disappear (his Impromptu of 1915) and to create the flourishing, heartfelt cantilenas that reveal his expert knowledge of the instrument (his Romance of 1915 and the Religioso of 1917), which Baiba Skride naturally lends the requisite impeccable taste. Sibelius then rounds off the inward-gazing/introvert cycle with a Nordic-tinted Baroque-styled dance (Rigaudon, 1915), making his intention perfectly clear: this is an era that has passed ...
In contrast, the Violin Sonata No 2 op. 35 of 1912 by the Danish individualist Carl Nielsen offers the most modern music in its way. In a manner typical of the composer, Nielsen eschews the foundations of clearly traditional harmony and consciously experiments with shimmering tonality that naturally opens up opportunities for creating his own new tonal landscape. At the same time, the composer proves to be entirely and sensitively in tune with the times with regard to his approach to historical and musical gestures and formal concepts, and even to be not unlike Mozart in more of an "objective" approach to the dramaturgical content of his music than in an emotionally-generated Romantic relationship to it.
The fact that all four composers share a very conscious musicological relationship to their music, which brings out their "own sound" in their works, proves here to be highly rewarding, both for an unsentimental musicality and for the performers' flawless, nuanced technique on the piano and violin, as well as for their open-minded listeners.
Grieg, Edvard
Violin Sonata No. 2 in G Major, Op. 13
Nielsen, Carl
Violin Sonata No. 2, Op. 35, FS 64
Sibelius, Jean
4 Pieces, Op. 78 (version for violin and piano)
Stenhammar, Wilhelm
Violin Sonata in A Minor, Op. 19
Total Playing Time: 01:11:19