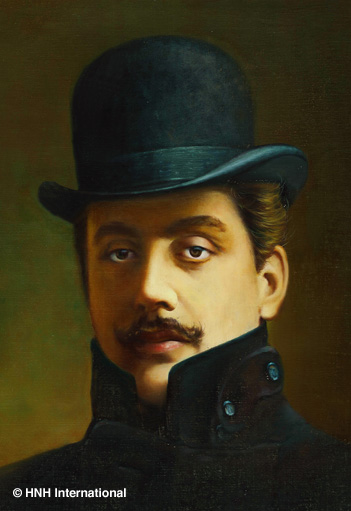 Giacomo Puccini (1858 - 1924)
Descended from a family of musicians, Puccini was the most important Italian opera composer in the generation after Verdi. He was born and educated in Lucca, later studying under Ponchielli at the Milan Conservatory. He began his career as a composer of opera with Le Villi, on the story familiar from Adam's ballet Giselle, but first won significant success in 1893 with Manon Lescaut. A musical dramatist of considerable power, if sometimes lacking in depth, he wrote 12 operas in total, the last, Turandot, still unfinished at the time of his death in 1924.
Operas
The opera Manon Lescaut, using the full name of the heroine of the 18th-century Abbé Prévost's novel to distinguish the work from Massenet's treatment of the same subject, won great success. Manon, seduced by the old Géronte, returns to her former lover, Des Grieux, but is betrayed to the authorities and transported to America, where she dies in the arms of her lover, who has followed her. La Bohème, first staged in 1896, centres on the love of Mimì and the poet Rodolfo in the Latin Quarter of Paris, a story of innocent love, betrayal and the final death of the heroine. Tosca, staged first in Rome in 1900, deals with the love of the singer Tosca for the painter Cavaradossi, their implication in revolutionary activities, and their death through the machinations of the wicked police chief Scarpia, himself murdered by Tosca. Madama Butterfly is a story of love betrayed, the innocent Japanese heroine of the title deserted by her faithless American husband and finally compelled to suicide. La Fanciulla del West ('The Girl of the Golden West') is set in a slightly improbable Wild West, while the triptych Il Trittico, three short operas that include Gianni Schicchi, attempts a change of mood. Puccini's last opera, Turandot, based on a Chinese story by the 18th-century dramatist Gozzi, makes inappropriate use of Chinese melodies, but is a moving study of the love of the suitor Prince Calaf for the icy-hearted and cruel Princess Turandot. All ends happily, but not before moments of suspense, marked by the famous tenor aria 'Nessun dorma' ('Let no one sleep').
Chamber and Choral Music
Some of the musical material of a particularly poignant moment in Manon Lescaut appears in a set of pieces for string quartet by Puccini, Crisantemi ('Chrysanthemums'), part of a very small output of instrumental music, little of which was published by the composer. His Messa di Gloria, rediscovered relatively recently, was written in 1880, marking the end of Puccini's studies in Lucca. His orchestral Preludio sinfonico also dates from this early period of his career.