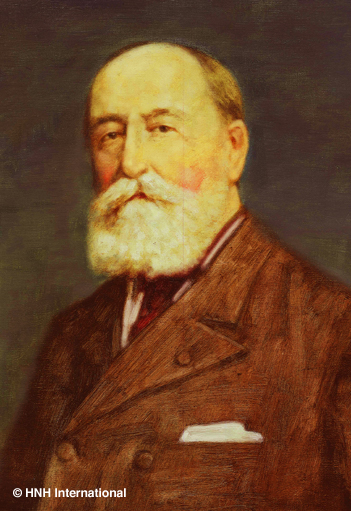 Camille Saint-Saëns (1835 - 1921)
Once described as the French Mendelssohn, Camille Saint-Saëns was talented and precocious as a child, with interests by no means confined to music. He made an early impression as a pianist. Following established French tradition, he was for nearly 20 years organist at the Madeleine in Paris and taught briefly at the École Niedermeyer, where he befriended his pupil Gabriel Fauré. He was a co-founder of the important Société Nationale de Musique with the patriotic aim of promoting contemporary French music in the aftermath of the Franco-Prussian war of 1870/1, in which he had served in the Garde Nationale de la Seine. Prolific and versatile as a composer, he contributed to most genres of music, but by the time of his death in 1921 his popularity in France had diminished considerably, as fashions in music had changed.
Operas
The best known of the 13 operas completed by Saint-Saëns is Samson et Dalila, a romantic treatment of the biblical story. His pastiche dances from the unhistorical opera Henry VIII may also be heard in concert performance.
Vocal and Choral Music
Saint-Saëns wrote a number of sacred and secular choral works and made a considerable contribution to the body of French solo song.
Orchestral Music
The 'Organ' Symphony – the third of the three numbered symphonies by Saint-Saëns, so named from the use of the instrument in the work – is the best known. Other popular orchestral works include Le Rouet d'Omphale ('Omphale's Wheel') and Danse macabre.
Saint-Saëns, a fine pianist himself, wrote five piano concertos, three violin concertos and two cello concertos. Both the Introduction and Rondo capriccioso and Havanaise are familiar in the repertoire for violin and orchestra.
Chamber Music
Saint-Saëns was equally prolific in his provision of chamber music, with a series of duo sonatas, including two violin sonatas, two cello sonatas and a variety of other pieces. The Carnival of the Animals, often heard in more expanded form, was originally a private joke for the enjoyment of his friends.
Organ and Piano Music
Saint-Saëns, distinguished as a pianist and organist, wrote for both instruments, as well as for the harmonium. His organ music includes the Fantaisie in E flat, his first such composition and among the most popular with recitalists.