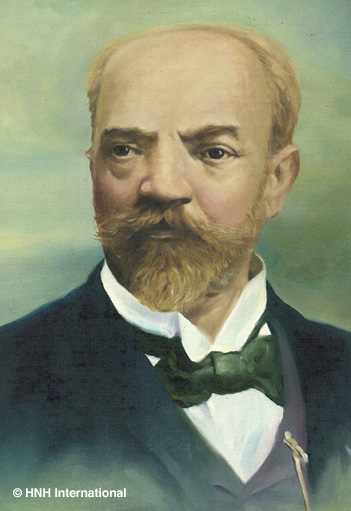 Antonín Dvořák (1841 - 1904)
The later 19th century brought an increasing consciousness of national identity to various ethnic groups in Europe and elsewhere in the world. Antonín Dvořák, born in a Bohemian village where his father was an innkeeper and butcher, followed Smetana as the leading exponent of Czech musical nationalism, firmly within the Classical traditions of Central Europe. His early musical training was followed by employment for some years as a viola player, for a time under Smetana, and then, with the positive encouragement of Brahms, by a life primarily devoted to composition. Dvořák won recognition abroad and rather more grudging acceptance in Vienna. Between 1892 and 1895 he spent some time in the United States of America as director of the new National Conservatory, a period that brought compositions which combine American and Bohemian influence. At home again he was much honoured, resisting invitations from Brahms to move to Vienna in favour of a simple life in his own country. He died in 1904, shortly after the first performances of his last opera, Armida.
Orchestral Music
Dvořák wrote nine symphonies, of which the best known must be Symphony No 9, 'From the New World', written in 1893 and first performed in New York in the same year. This 'New World' Symphony derived some inspiration from a Czech translation of Longfellow's poem Hiawatha.
Works for solo instrument and orchestra by Dvořák include an important cello concerto, a violin concerto and a slightly less well-known piano concerto. The Romance for solo violin and orchestra and Silent Woods for cello and orchestra make interesting and attractive additions to solo repertoire for both instruments.
Other orchestral works include two sets of Slavonic Dances, arrangements of works originally designed for piano duet, and three Slavonic Rhapsodies. Overtures include My Home, In Nature's Realm, Othello, Hussite and Carnival. To this one may add the Scherzo capriccioso of 1883, a polonaise written four years before, and the splendid Serenade for Strings of 1875. The Symphonic Variations meet the challenge of an apparently intractable theme and the 10 Legends were orchestrated by the composer from his original piano duet version. Further works include the symphonic poems The Noonday Witch, The Golden Spinning-Wheel and The Wild Dove, works that seem to explore new ground with their narrative content.
Chamber Music
Dvořák left 14 string quartets, of which the best known is the so-called 'American' Quartet, No 12 in F major, written in 1893, the year of the 'New World' Symphony. The composition of Quartets Nos. 13 and 14, in 1895, seems to have taken place over the same period. From the American period comes the G major Sonatina for violin and piano, its second movement sometimes known as 'Indian Lament'. Of the four surviving piano trios, the fourth, called Dumky because of its use of a Bohemian national dance form, is the best known, closely rivalled in popularity by the third. Dvořák's quintets for piano and strings or strings alone offer further pleasure, as well as the String Sextet and the charming Terzetto for two violins and viola.
Piano Music
The best known of all the pieces Dvořák wrote for the piano must be the Humoresquein G flat major, the seventh of a set of eight. Close to this come the two sets of Slavonic Dances for piano duet.
Operas
Dvořák wrote 10 operas, the first in 1870 and the last completed and staged in 1903. Rusalka, first produced in 1900, provides a well-known concert aria, 'O silver moon'. Other operas have had less currency abroad, although they have some importance in the Czech musical revival. The composer himself set considerable store by his music for the theatre, whether in comic village operas in the manner of Smetana's The Bartered Bride or in more ambitious works based on Czech legend.
Vocal and Choral Music
Dvořák wrote a number of songs and a popular set of Moravian Duets for soprano and contralto. The most popular of the songs is the fourth of Seven Gypsy Songs, Op 55, 'Songs my mother taught me', also familiar from various arrangements.
Some of Dvořák's choral works were written for the flourishing amateur choral societies of England, in Leeds, Birmingham and London. These include the oratorio St Ludmilla, settings of the Mass and Requiem Mass, and a setting of the Te Deum, which was first performed in New York in 1892. Earlier choral works include a setting of the Stabat Mater and of Psalm CXLIX, each first performed in Prague in 1880 and 1879 respectively.