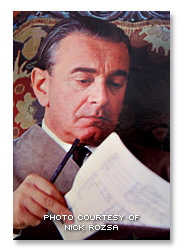 Miklós Rózsa (1907 - 1995)
Trained in his native Budapest and in Leipzig, Miklós Rózsa settled in Paris in 1931. He later worked for Alexander Korda in London and in America, eventually settling in Hollywood, where he enjoyed a successful career writing music for films. He was able, at the same time, to realise his original intention of writing music for the concert hall.
Film Music
After his music for The Thief of Baghdad in 1940, Rózsa was in great demand as a film composer. He wrote scores for over 100 films, including Spellbound (1945), Madame Bovary (1949), Quo Vadis (1951), Ben Hur (1959), El Cid (1961) and Dead Men Don't Wear Plaid.
Orchestral Music
Rózsa wrote a symphony and a series of concertos. Of the latter, one of the most widely known is Spellbound Concerto for piano and orchestra, derived from his score for the film of that name by Hitchcock. Other orchestral works include a Symphony, concertos for violin, for cello and for viola, and a Rhapsody for cello and orchestra.
Chamber Music
Rózsa's chamber music ranges from earlier works, some clearly based on Hungarian sources, to a series of compositions for solo instruments written towards the end of his active career.